Danish title: "Fra Thy til Thailand"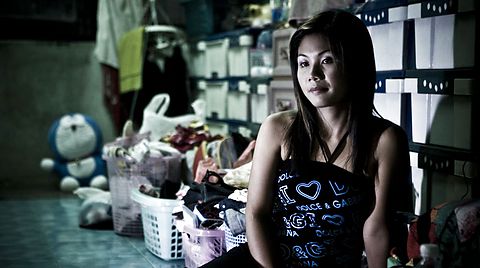 In a small village in the north east of Thailand there are two kinds of families. Those who have a daughter married to a Dane, and those who don't. The first mentioned live in concrete buildings, the latter in small wooden cottages. Sommai is the queen of the village. Normally she works at a factory in Denmark. But now she is back in Thailand, where the young girls flock around her. They hope she can help them find a Danish husband. Life in the west, however, has its price and the women often need to make difficult decisions while pursuing their dreams. For the newly married Kae this means that she has to leave her child behind. And for the young girl Saeng, the ticket to paradise is through the sex-bars in Pattaya.
Directed by Janus Metz & Sine Plambech (co-director)
Produced by Cosmo Film Doc
Release year: 2008
Festival screenings: International Documentary Film festival Amsterdam (IDFA) 2008. Copenhagen International Documentary Festival (CPH:DOX) 2008. South by South West, Austin TX, US 2009. Thessoloniki Docfest 2009. Buenos Aires Danish Film Festival 2009. Wellington – New Zealand Film Festival 2009. Pärnu Intenational Documentary Film Festival 2009 (opening film together with "Fra Thailand til Thy"). Reykjavik Intenational Film Festival 2009. Odense Film Festival 2009. Nordic Film days Lübeck 2009. Quanzhou Film Festival 2009. One World Human Rights Film Festival, Prague 2009. DOCUMENTARIST Istanbul Documentary Days 2009. Vilnius International Film Festival 2009. Bergamo Film Meeting 2009. 
Prizes and awards: Special mention CPH:DOX 2008, Best Photography Award at Danish TV-award 2009. Best Documentary nomination at Danish TV-awards 2009. Best Documentary Award at Nordic Film days Lübeck 2009 (with "Love on Delivery"). Special mention at Quanzhou Film
Festival 2009.
Reviews: Information, Film.Guide, The Wip 
Links: Filmstriben, IDFA, DFI, DR
Online Version: Vimeo, (password: FTTT)